Mamba - A kart inspired by Barlotti design? or built by Jack for Stan?
The Mamba story is still not fully researched, there are conflicting accounts, early Mamba karts look very much like Barlotti Monza's and Monzette's, however there are a few distinct differences, mainly the stub axle design and welded on seat stays, what is evident is that the Mamba karts always displayed some clever and advanced designs.
Since putting up a "Spilling the Beans" Mamba article in the excellent BHKC newsletter I received a number of emails all adding to the Stan Owen Mamba story, I am sure there is still more to tell, so please send me any information you have I will add it to the Mamba tale.
One this page you will find photographs of several Mamba karts, an early one found by Jim Coulthard now owned Ian McLeod, and two great Mamba karts restored by Mike Sanderson, also we have a great email from George Robinson which sheds some light on how Mamba started.
Email from George Robinson sheds a lot of light on the Mamba / Barlow story.
"Dear Andy.
Well done with your interesting articles in the BHKC newsletter. I raced Barlotti karts from 1968 until 1974. Short Imp, Long Imp, Monza, Monzette and Barracuda. I remember Jack Barlow working with Les Hall and bought my first Imp from them at Lydford Road probably mid 1968, this was a short chassis that had belonged to David Ferris. I forget how much we paid but I think it was about £50 and a new one was £75. As far as I remember all those early karts had a basic steel drum brake and the later ones had an "Alfin" drum brake.
The Monza was copied from a Taifun that was lent to Jack by Dave Ferris. The Monza was probably their most successful chassis. Terry Fullerton's European championship Kart was in fact a Monza but with the later Monzette fittings.
Les Hall left Barlotti around the time that Roy Mortara joined the firm I think. It was Les who made the Mamba for Stan Owen, in his garage at home. I was led to believe that there was a rift between Jack and Les but of course like so many things that may have been exaggerated or invented.
It seems that there were a lot of people trying to capture the magic of the Taifun, for me the Barlotti Monza was the only one that came close at the time.
I tested a Mamba at Blackbushe and then again at Rye House. I remember being embarrassed because I had gone to Rye with Chris Hampshire's father and Stan asked us to go back to his house at Boreham Wood for an evening meal. Ken Owen was there, he was a gifted driver who had stopped racing in favour of an Amazonian German girl whom I found very frightening!
I was embarrassed because I knew that the Mamba was not as good as my Monza, we ate the dinner and didn't buy the kart ! I then swapped my Monza for a Monzette with Biff Harris and that too was not as good. Biff was beating me with my old kart!
It was not long after that that Roy was killed and Jack almost shut down. Barlotti was closed a lot of the time in the winter of '73-'74. I was personally going as well as I ever had, I was good friends with Roy but I had also lost my father in the same week that Roy was killed. On reflection I think I buried myself in my work and racing.
Just before the team selection meeting in '74 , I was offered a test on the new Zip Mirage by Martin Hines at Rye House. It was a good deal and a cheap kart came with a new ZEP Komet K88TT. I was struggling to get a kart out of Jack so defected to Zip. Later that year I was at Blackbushe and Jack offered me a race on the new Barracuda. I took it did OK and reverted to the Barlotti. An evolution of the Kart came out in the Autumn which was awful, I went to a Team event in Holland and really struggled. Unfortunately I think that was my last race on a Barlotti in that era.
I raced in 100 Britain in the early '80s on a friend's Barlotti BB with a Hewland Arrow, which was actually quite good. I won the Welsh Championship as a novice ! We then had the engine Tuned and bought a more modern chassis, the result was disappointing so I went Endurance racing in France. That's the end of my Barlotti story. I do have an Imp that I lent to the late Alan Button after his kit was stolen. It is currently in bits awaiting restoration.
The greatest drivers on Barlottis for me would be Fullerton, Ferris, Mortara all of whom fall into the drivers that had the art. Chris Hampshire was extraordinary for another reason. Chris was on the British team for Class 1 and Class 4 in the same year, 1968. I saw Chris win in Class 1 Super at Thorney Island and then jump straight in the Barlotti Centaur Suzuki and win with that as well. Not easy when one had two pedals and the other three ! Chris went on to do some car racing winning the Mini Miglia Britiish Champs in 1981.
Yours sincerely, George Robinson."
"PS: I raced a special Monzette in '74 in the Tilbury "Bell fruit group" 4 hour race. My partner in this was Mick Homewood who was married (briefly I think) to Rosemary Barlow.
The bearing housing was a w shaped affair that swung the axle quite a long way, probably too short one way and too long the other.
I had been to an all night party and stuck the Kart into the barbed wire fence when the steering column broke...early bath !!"
Many thanks for this information George, great stuff.
The Karts.
Below are photographs sent to me by Ian McLeod of his new project, an early Mamba kart he got from Jim Coulthard.
Ian emailed me as follows:
"Here are some pictures of the Mamba I acquired from Jim Coulthard it is still in parts awaiting restoration I mocked up the parts for the pictures clearly this chassis has a connection with Barlotti I assume various Barlotti chassis features fused to create the Mamba of around 1975 I have some karting Magazines of that year including Mambas in the top 3 results.C.T.E.S engineering owned by Stan Owen of New Barnet Herts produced Mambas and raced themselves often in French endurance races with Parilla SS20,s and TT22,s he was also responsible for producing the Later Le Spectre 1980 chassis which I also owned at the time.
Regards Ian McLeod"
Many thanks for these Ian, look forward to seeing the restored kart.
Below are some photos posted by Jim Coulthard on the BHKC forum
Early Mamba, at least that is what it says on the floor tray, photo posted by Jim Coulthard on the BHKC forum.
Looks like a Monzette, but has inclined stub axles with top trailing arms, welded seat stays, Mamba moulded Monza style floor tray, thin section bent pedals, Barracuda type nerf bars, Monzette type bearing hangers. As Jim called it a "Mambalotti".
Dave Harridge wrote on the BHKC forum, regarding this kart.
I think it's a Mamba. The nerf bars: the bracing tube on the Monzette went to the end of the main tube, on the Mamba it went about 2/3rds of the way up.
The pedals: On the Monzette were welded out of two pieces of tube, on the Mamba were one piece solid bar.
The front bumper tabs on the Monzette were close to where the chassis side rails meet the front rail, on the Mamba were an inch or so further forward.
The steering column bottom support tubes: look much wider based than the Monzette, more like a Mamba.
The shape of the bearing hangers, the seat mounting brackets, the chromed steel fabrication steering column top support, is all Mamba.
My only possible doubts are: the lack of kingpin inclination in the front view - Mambas had 15 deg the drum brake: Mambas had girling disc before going to Airheart, but maybe this was a prototype Mamba.
Dave Harridge
Mike Sanderson's Mamba's
Mike highlighted the main Mamba Monza differences as follows. After careful observation, mambas seem to have the following differences:
1 - Mamba's have a chassis number stamped on one of the undertray lugs, my oldest is 003 stamped on the front right lug.
2 - More caster angle on the front stubs, the Barlotti is more upright.
3 - The steering column boss fits over quite a fat hexagon on the top of the column and is held on through a m8 bolt that also goes through the steering wheel. Very early ones had a round fitment held on place by a woodruff key and bolt, mine did in 1973.
4 - The seat supports were welded on with the left one welded onto the bearing hanger beside the brake. All mambas and spectres that I have seen had that style of support.
Mike's early Mamba, stamped 003, with 4" fronts and Girling brake, note stub axle training arms come from the top, Barlotti ones in this era come from the bottom.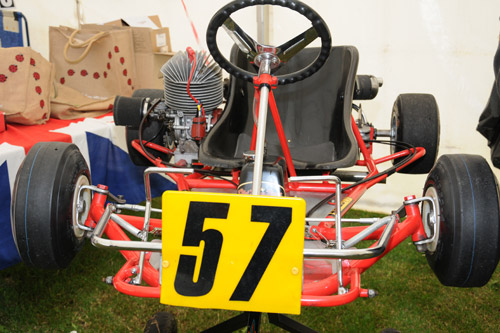 Perhaps my old 57 is a Mamba, stubs and pedals same as Mamba, one day I may find out!
Mamba advert, Karting Magazine December 1977, no longer a Barlotti clone.
Puma 125 kart by Stan Owen, very innovative kart.
Advert from Kart and Superkart June 1980