Barlotti Monza Upton Manx 210
Date of manufacture - 1972
Model name - Monza
Owned from new by Steve Brenton.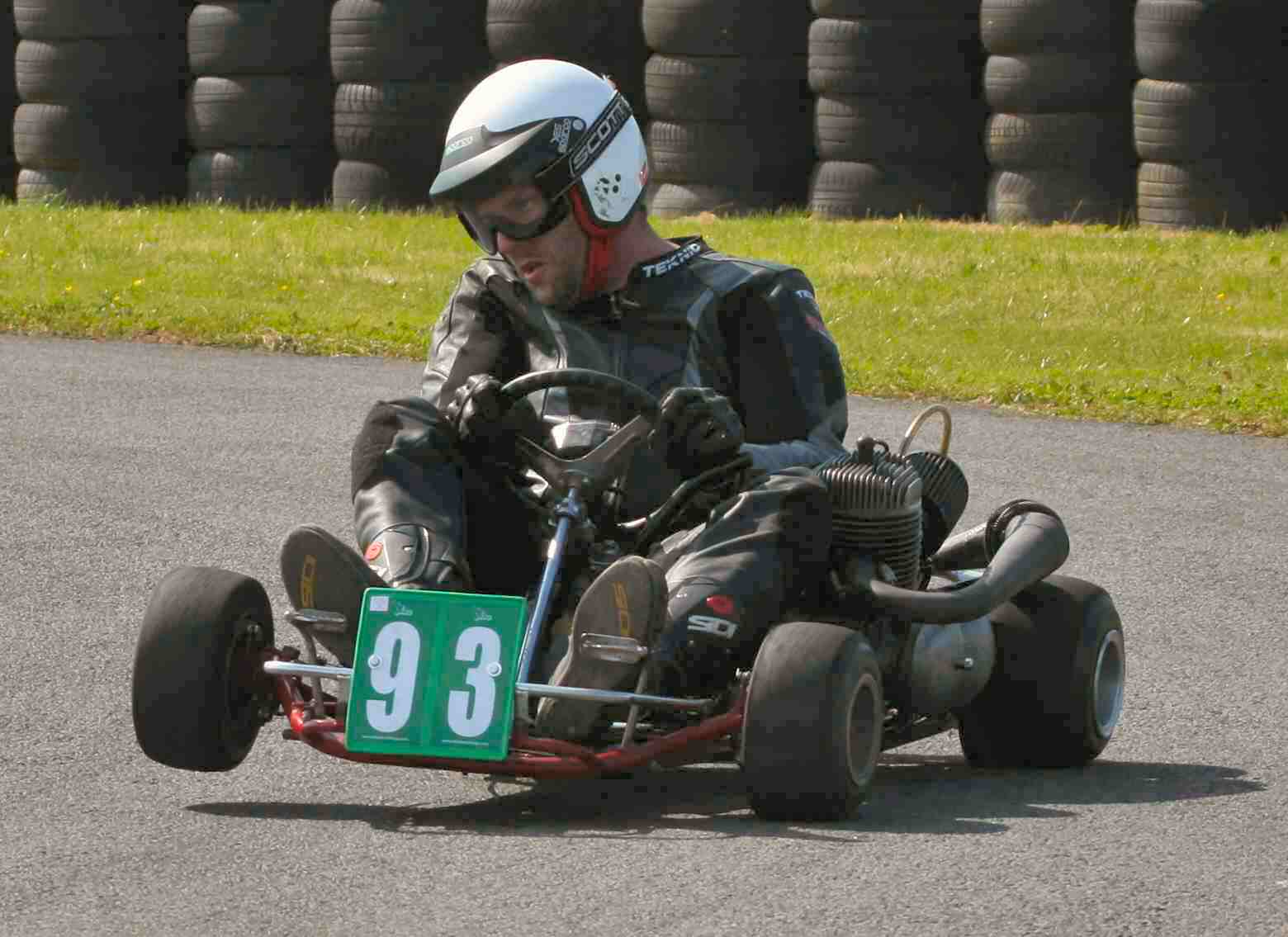 Great photograph taken by Steve Cowell at Llandow 2011
I first put this photograph of #93 Barlotti Villiers kart on two wheels, in the "at the track" for Llandow 2011 -I had not seen the kart before and could not find it in the event programme, so added the caption;
Unknown Barlotti Villiers - "going for it".
Steve Brenton emailed me after seeing the above photograph, and wrote.
"Thought I should advise the unidentified maniac on two wheels at Llandow (shown on your website as Unknown Barlotti Villiers - "going for it") is my son Tom Brenton on the 1972 Barlotti Monza / Upton Manx 210 which I've owned from new. Amazing I let him loose on the old girl although he did her proud by coming 2nd in the first heat (Tom's first race ever). Can you include the kart and me on the Barlotti register please?
Yes its my pleasure Steve, hope to see more photographs old an new of "the old girl" in near future.
I asked Steve for more information and he responded immediately with the following, great stuff Steve many thanks.
Barlotti Monza
Purchased direct from Reading factory in 1972
Jack advised drum brakes would be fine for 210 Villiers and he was right - she stops amazingly well in 2011 on original linings
Was painted black but resprayed Leyland Sunburst Red in 1992 (the can was sat unused on my paint shelf)
Raced until 1975 then languished until quick rebuild in 1992 - used just once (see below)
Languished again until 2010 when interest rekindled by BHKC activities, which prompted another quick rebuild
Engine
Original had old iron barrel Merlin Magnum
New Alloy Barrel Upton Manx 210 fitted late 1973 (2-port)
Engine is standard apart from subtly modified transfer ports
Track History
Mainly competed at Shennington with mid-field results
Kimbolton race in 1975 was one of the better ones, when I came 3rd in the final (still have the trophy!)
Ran a practice session at Kimbolton in 1992 but got funny looks and felt really out of place (so nothing like today with BHKC influence - everyone seems to love us)
Ran demos during 2010 at Rissington, Whilton Mill and Strubby
Only 2011 outing so far is Llandow Retro-Racer but we plan to be at Whilton Mill and Clay Pigeon
Llandow Driver
LLandow was genuinely Tom's first race meeting but actually he's something of a ringer. Tom has extensive competition experience: Enduros on KTM 600 (the deep end), Stage Rallying in 4wd and 2wd Sierra Cosworth (he won a tarmac rally outright in 2004) and recently Sprinting the 2wd Sierra Cosworth (but Jonny Milner still beats him). He's practised the Barlotti on several different tracks, so being competitive at Llandow was not such a surprise!
Photos
Nothing at all from the 1970s (I didn't own a camera back then) and not much recently, but here's a couple of me at Rissington in 2010.