Rob Cooper's 1969 Dino
Date of manufacture - 1969
Model name - Dino
Originally found and restored by Paul Dickinson, now owned and being re-built by Rob Cooper.
Technical Details:to follow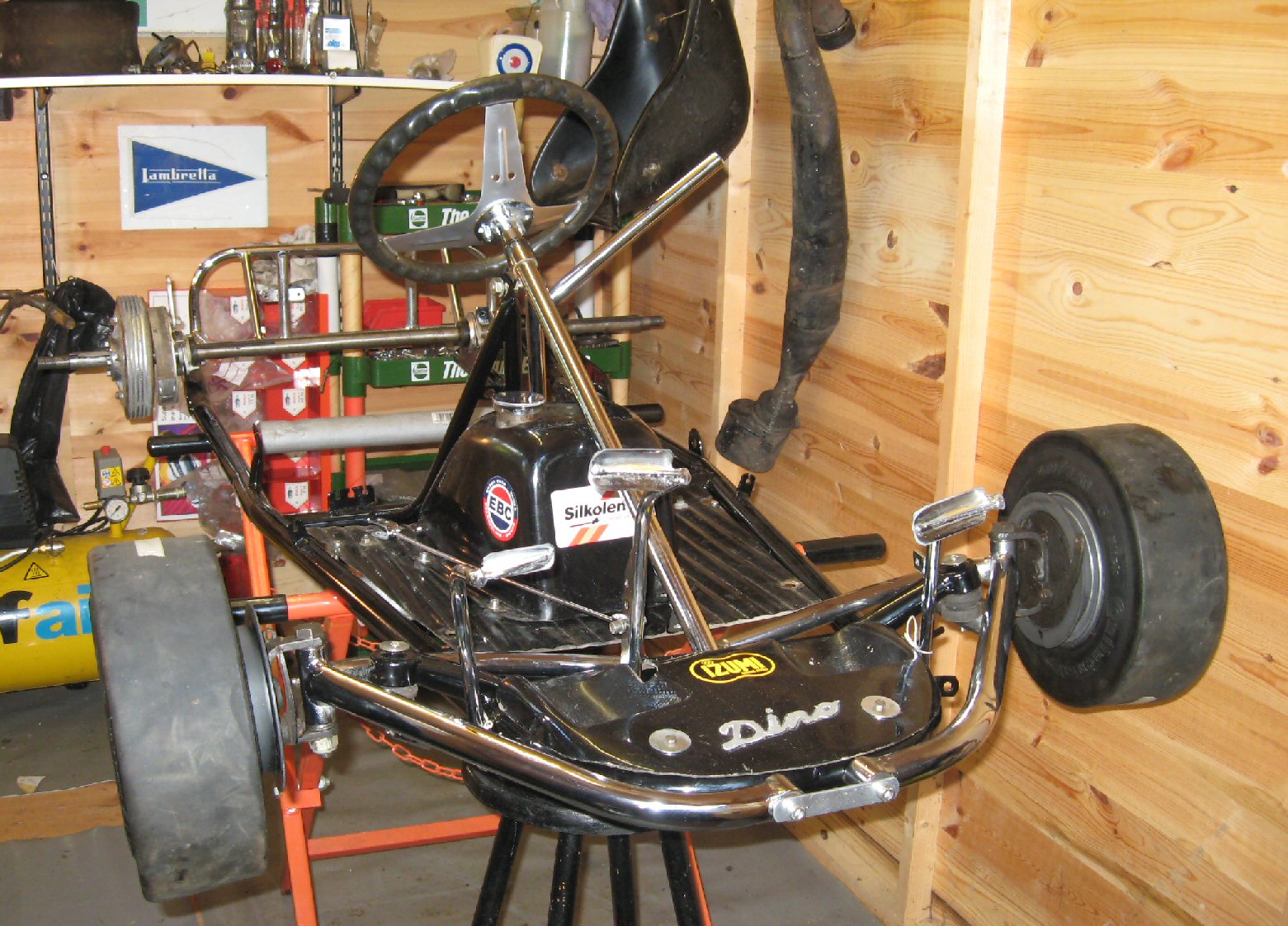 It's getting there!
Paul Dickinson's Dino restoration in his own words:
I first became aware of the existence of the Historic Kart Club a couple of years ago when my son in law Jon and I where visiting Race Retro. I used to race one of those I told him (class 1 in the early 70's and a 125 in the early 80's) I'm not sure if he believed me but we decided to go to Shennington later that summer to have a look at what was going on.
From that moment I was hooked, the most friendly group of people I had ever come across in any form of motor sport I had competed in, so the hunt was on for a Kart. I remembered that a farmer friend of mine and member of the classic car club that I help run had a Kart in his barn that his son used to use around the farm I wonder if he would sell it to me? Well after a lot of pestering and nagging he finally conceded as his son was now grown up and left home the Kart would probably be of no use to him and he would consider selling it.
I had no idea what it was, all I knew was that it had drum brakes and therefore was from the 60's or 70's so I jumped into my pickup and made my way to his farm near Cheddar. What I found was a Barlotti Dino looking a bit sorry for itself, it had a Honda 90 engine fitted but my friend said they still had the original engine that came with the Kart, a Montessa 250cc 5speed with twin carbs which proved to be too powerful to use on the farm. A deal was agreed and I carried it all away that morning, leaving the Honda engine but collecting the Montessa. The Montessa was stripped and in several ice cream cartons, my friends son had tried in vain to fit a kick start back into the engine but gave up and left it in bit's but I was assured "it was all there".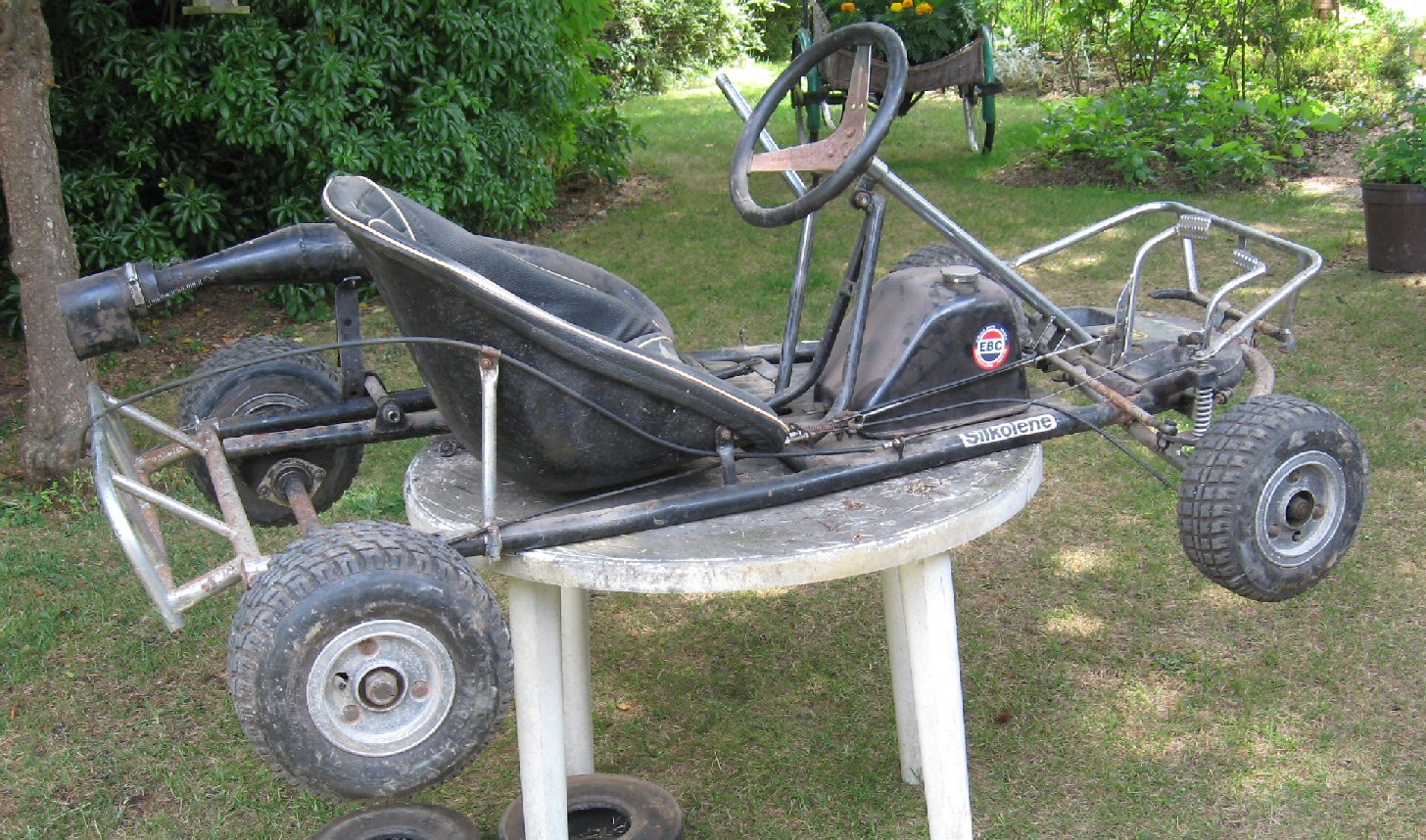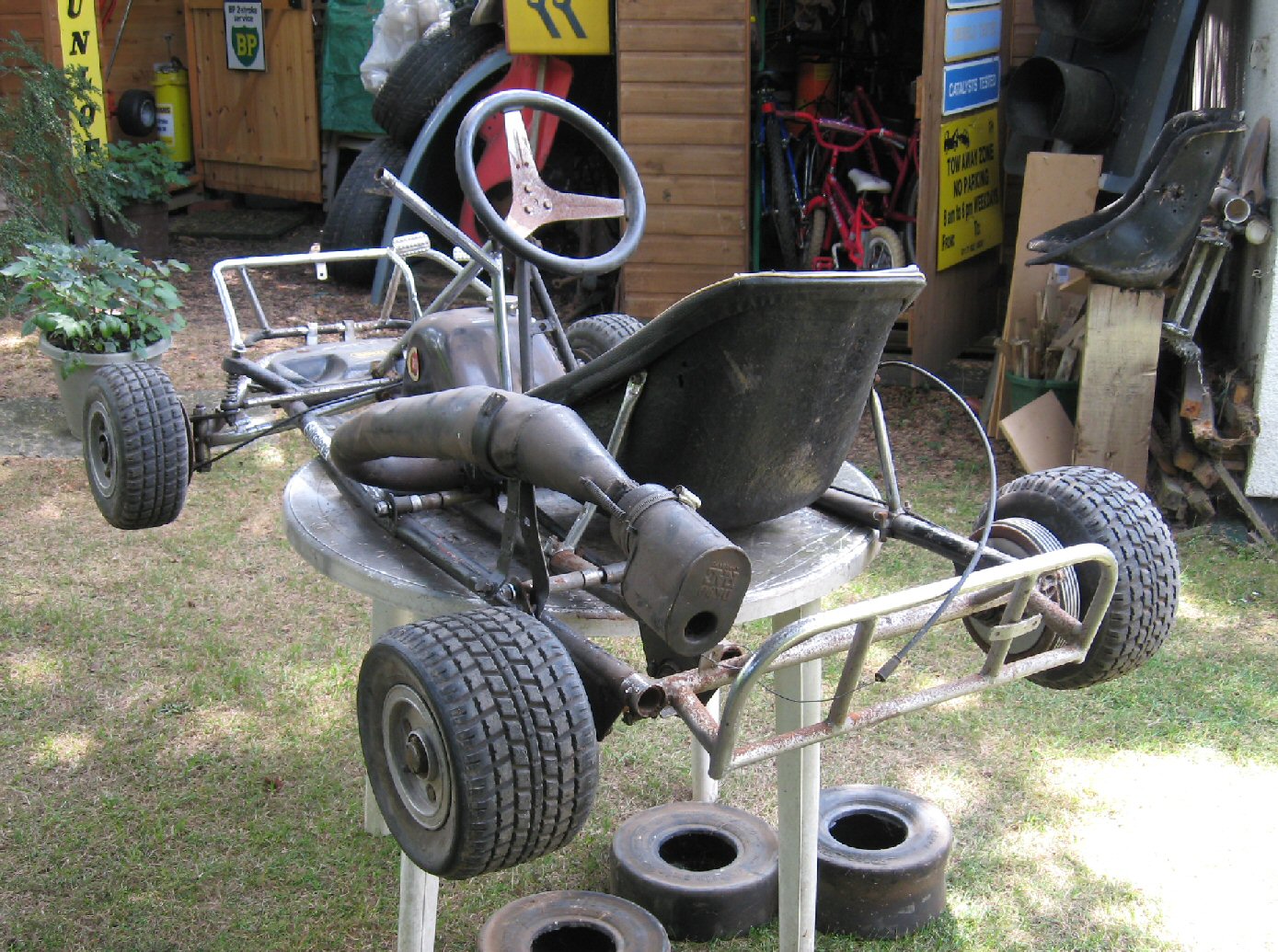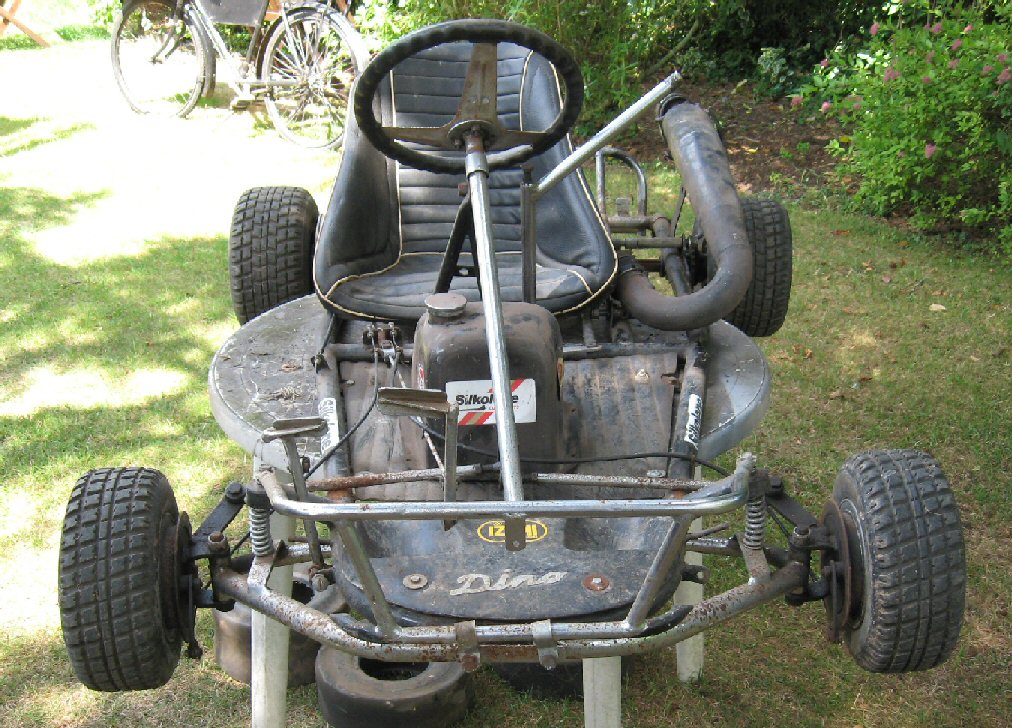 I asked him where he bought it from and the story is that he bought it from the closing down sale of the well known west country Kart racer Dave Hockey's shop "The Power House" in Shepton Mallet and he only bought it because it was the oldest and therefore the cheapest Kart for sale simply because he only planned to use it on the farm. When I got it home I photographed it and sent some photo's of to Wyatt Stanley (British Historic Kart Club) and asked him if he knew what it was and when it may have been made.
I was really quite surprised by his reply that it was a rare survivor of a model that was banned from racing as it has suspension and that only 2 others at that time where known to the club. I set about stripping it down straight away and soon realised that to use it on the farm the front suspension had been altered to give more ground clearance, this was easily rectified but I also found at this stage that the chassis had been cut off at the rear and turned so that the axle was under the chassis rails again to give more ground clearance and this was going to take a bit more work to put right.
I contacted Wyatt again and he forwarded my questions to Roger Norman in Jersey, Roger had the other complete Dino that was known to the club. I owe a great deal to Roger as not only did he send me some photo's of his Dino which confirmed how much of the back end of mine was missing but he drew me a technical drawing with the dimensions I needed to repair my chassis, thanks again Roger. I made myself a jig and set about rebuilding the rear of my chassis which wasn't just a case of turning the bearing carriers back to where they should be as the Dino chassis kicks up at the rear and I had to get the angles right. I persevered with it and was pleased with the end result, it may not be exactly as it left the factory but it's close. I had the chassis blasted and powder coated black and I am now in the process of putting the Kart back together again, Wyatt has helped with the re chroming and I should finish the frame this summer (2011) then I will start on the engine which will be quite another challenge as there seems to be little knowledge on how these early Montessa engine where put together.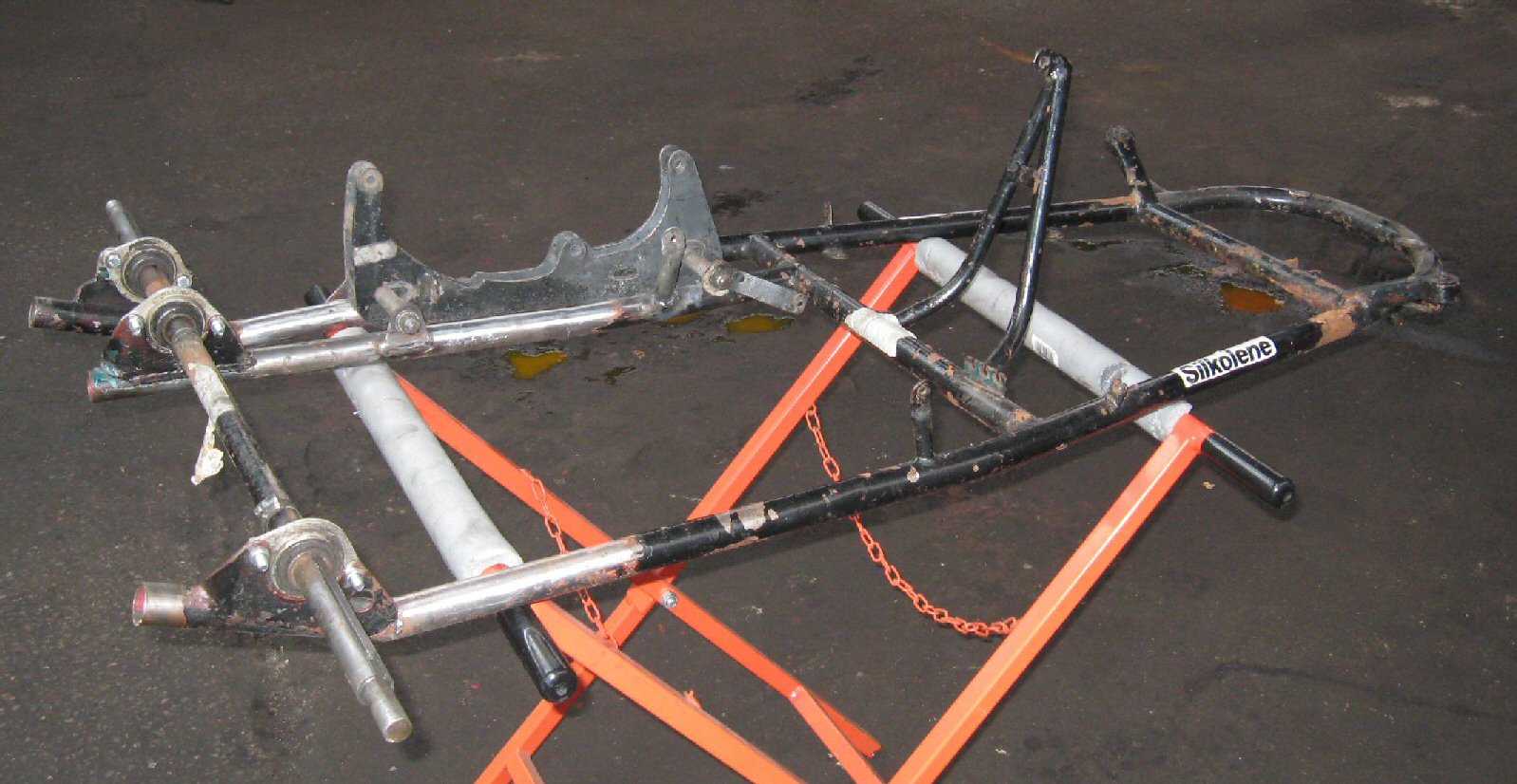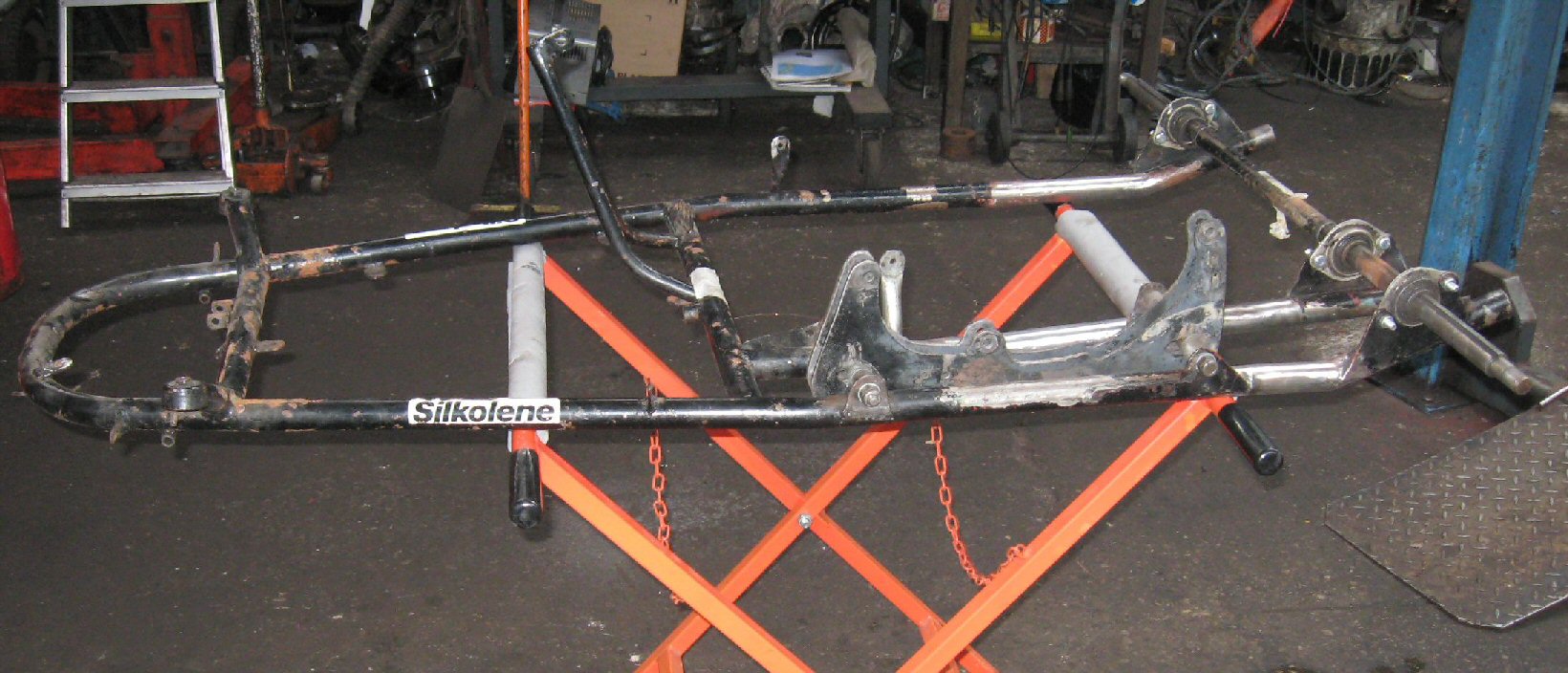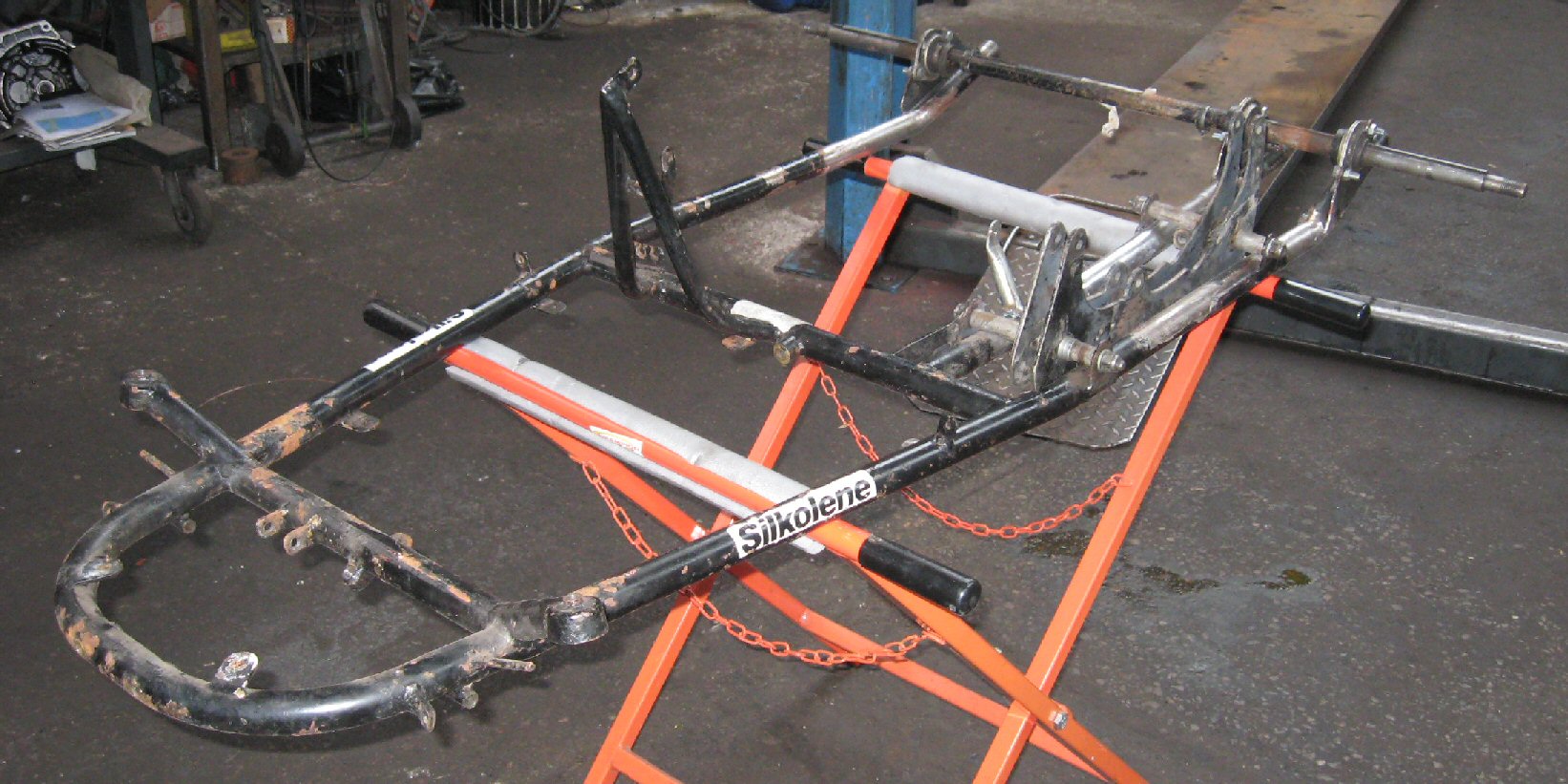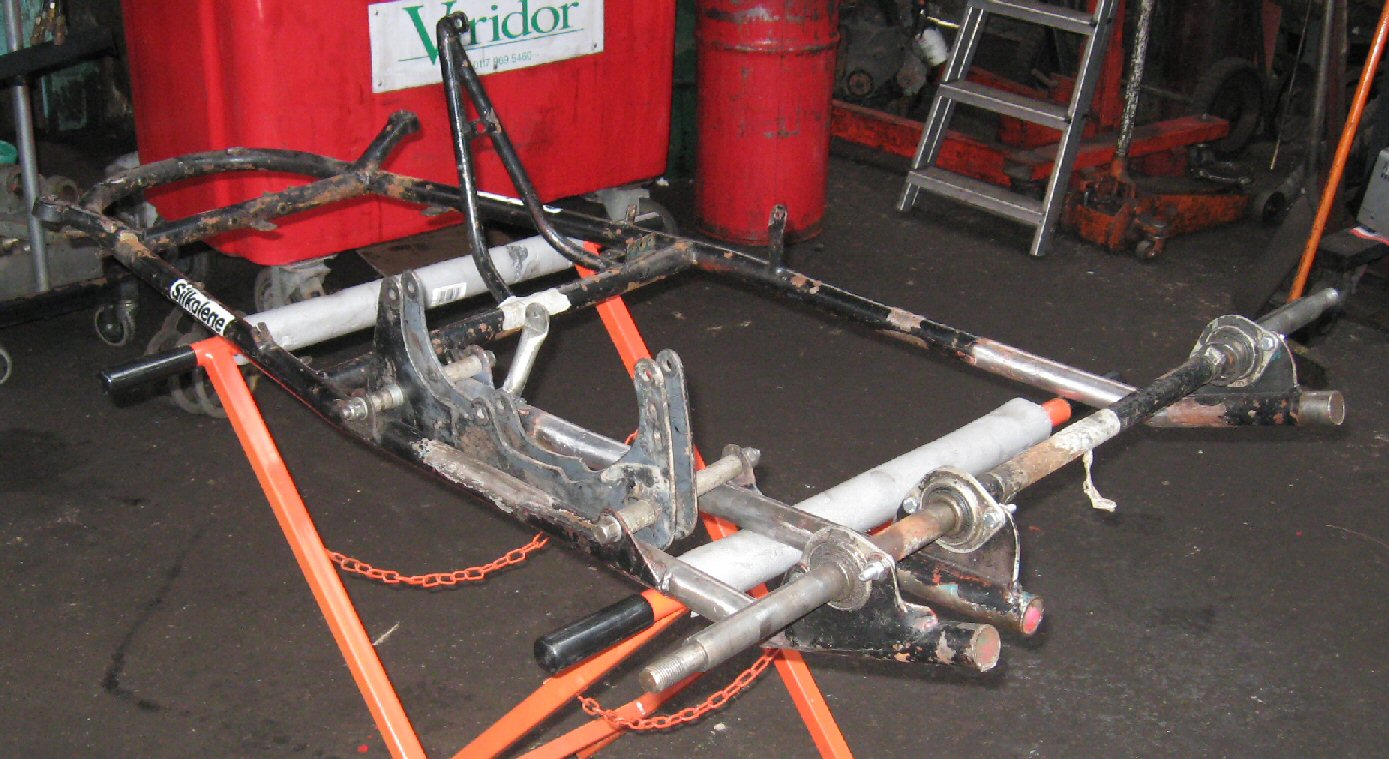 Stripping down, and below after blasting and powder coating.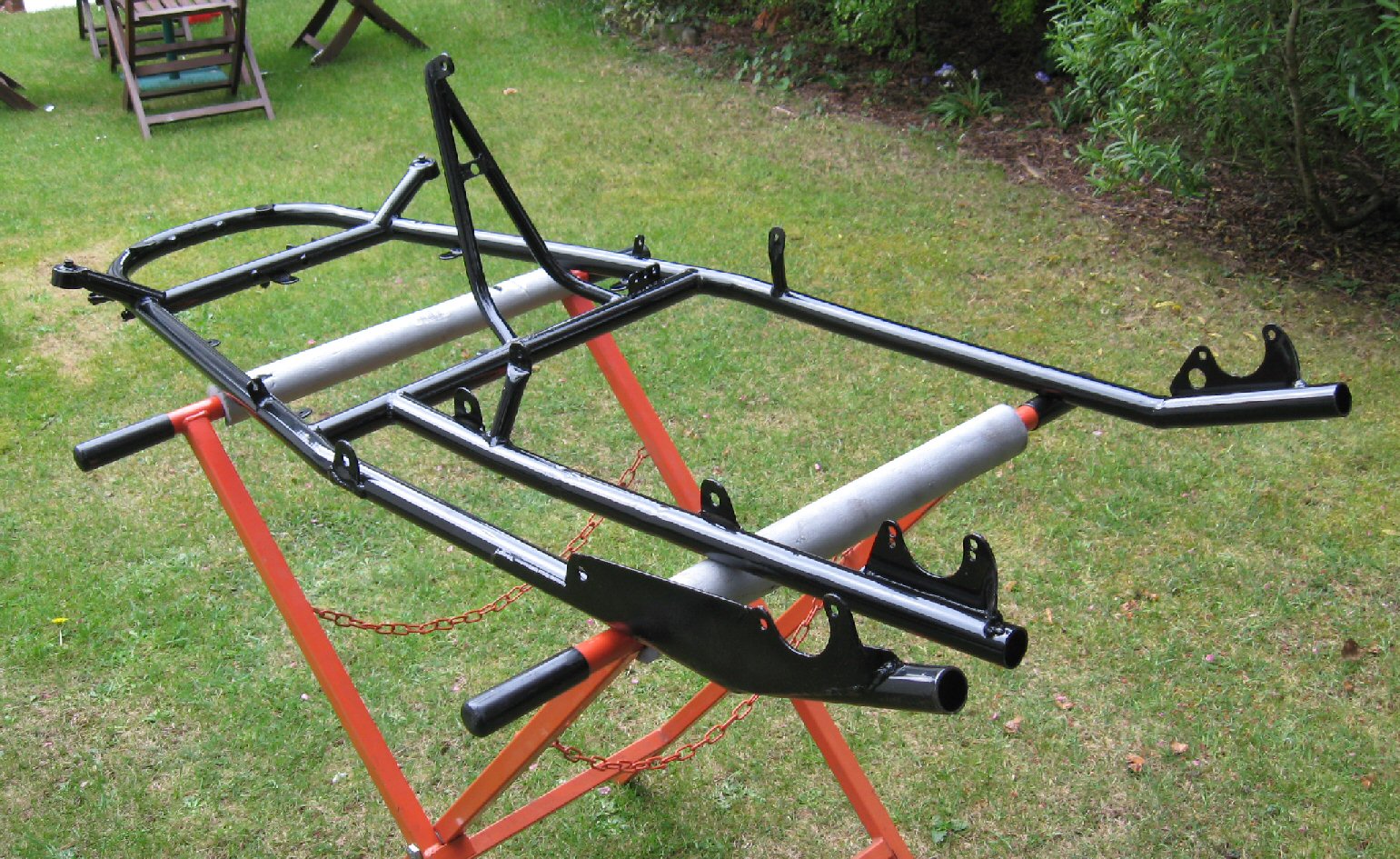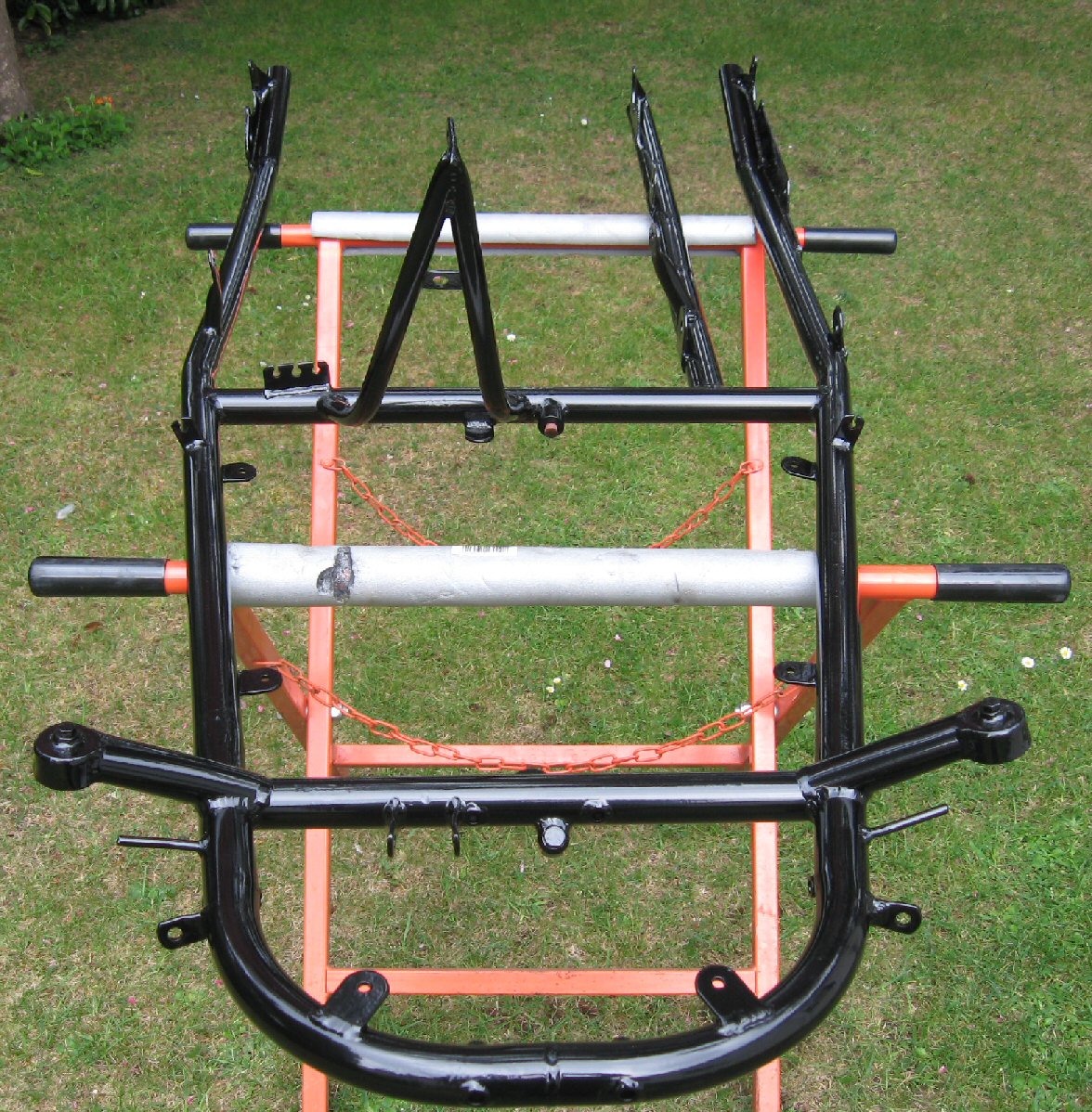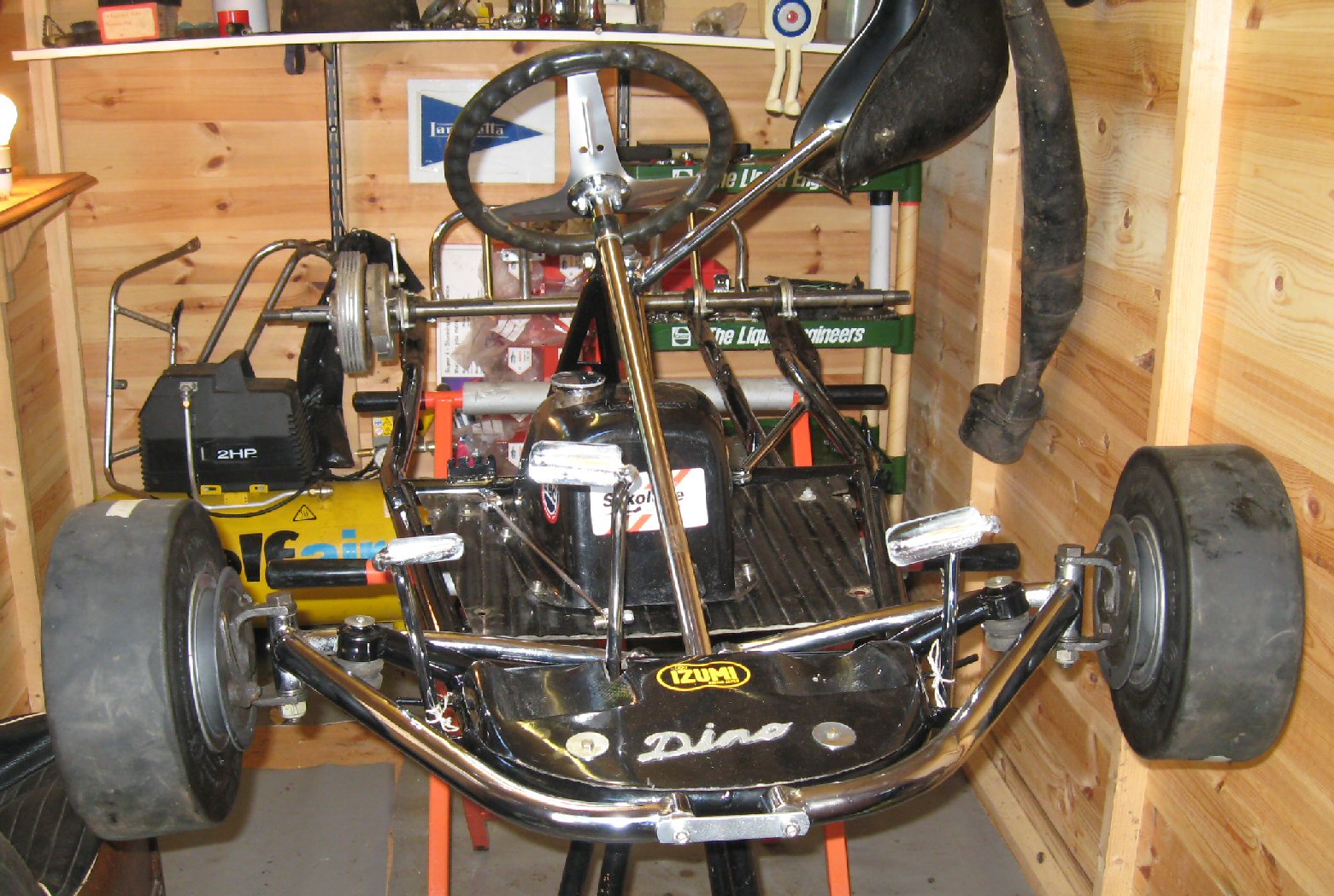 Looking good
250 Montessa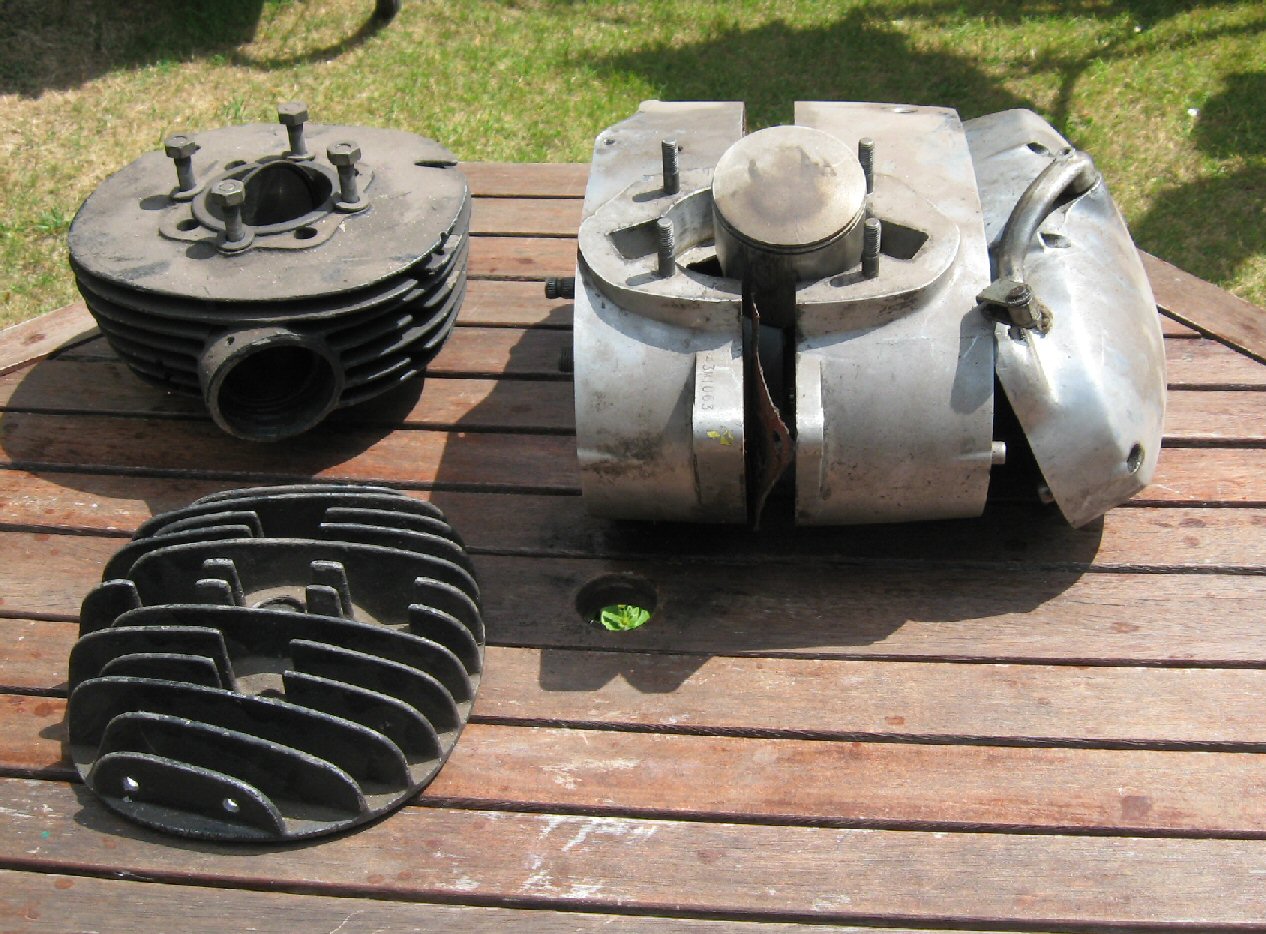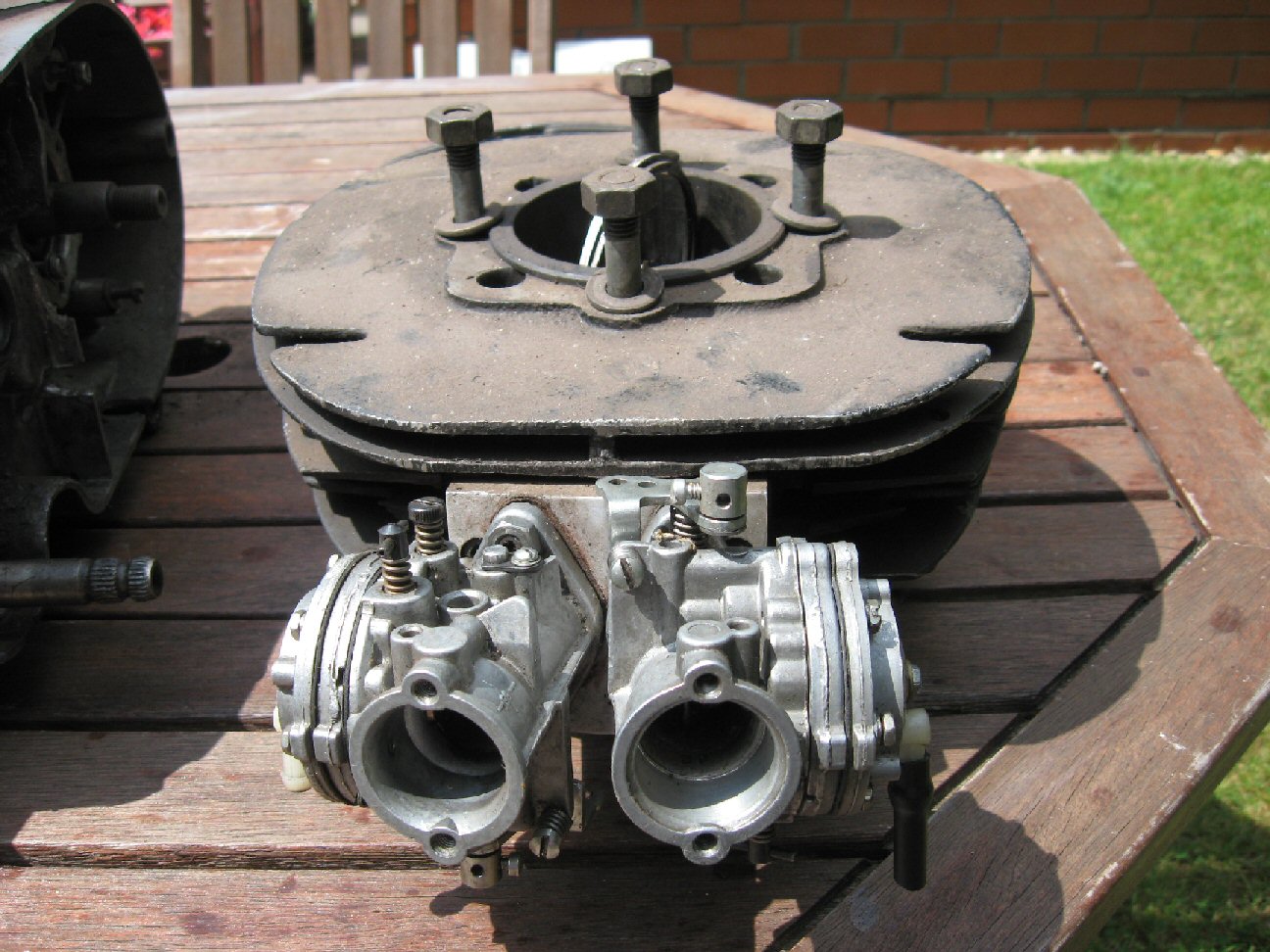 We look forward to more photographs and information in the near future.